Back to top
News and Announcements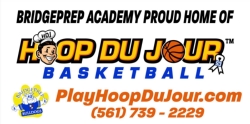 Hoops Du Jour starts new season!

Tomorrow Wed March 27th starts the New Spring II session of the Hoop Du Jour Basketball @ BridgePrep After School Program. We will lace em up for the next 4 weeks from 2:30 pm - 3:30 pm. Reserve your child's roster spot today at www.playhoopduJour.com. Let's Ball Y'all!
http://www.playhoopduJour.com.