Back to top
News and Announcements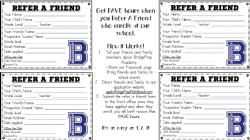 Refer - A - Friend Program!

Good afternoon,
As you know, a lot of our new enrollment comes from Word of Mouth, parents who tell their friends and family members about BridgePrep and get them to join our BridgePrep family.
Check out our refer a friend program, where you can earn 5 PAVE hours just by having a friend or family apply to attend BPA next year!